Integrate Wishlist Member & WooCommerce Quickly & Easily Better Than Any Existing Integration!
Easily create membership products to unlimited number of membership levels and/ or paid posts using the pay-per-post feature and save time & unnecessary integration steps.
Perfect for non-techies!
We Have Enhanced Wishlist Member WooCommerce Plus with Powerful Add-Ons:
Member Registration Add-On
Register customers to any membership level / pay-per-post after completing a WooCommerce product purchase.
Just click to edit your product > Go to the Product Data Meta box > Choose the membership levels and / or pay-per-posts under the "Wishlist Member Registration" tab as seen in the screenshot to your right.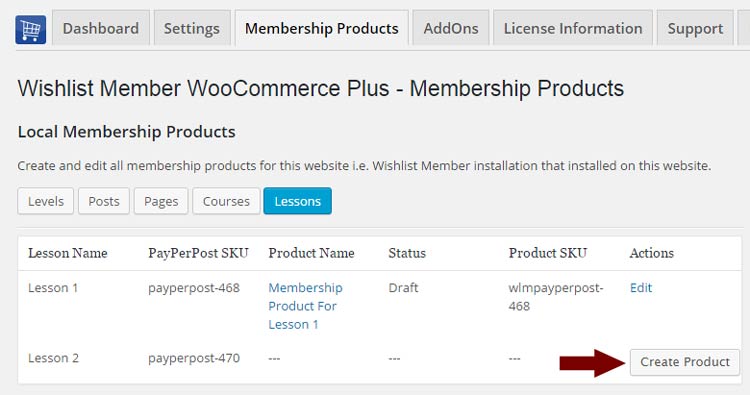 Custom Post Type Add-On
Sell custom post types individually using Wishlist Member & WooCommerce platform.
Just enable the relevant custom post types in Wishlist Member, create a membership product using Wishlist Member WooCommerce Plus, define the Product Data settings & publish!
External Membership Sites Add-Ons Bundle
Sell memberships that are located on a separate domain (different WordPress installation) than your WooCommerce website.
Automatically register members to ANY membership site (one / multiple), and even to 3rd-party sites (joint ventures, for example), after they complete the purchase on your WooCommerce store
The External Membership Products table will be automatically displayed after you install and activate the add-on.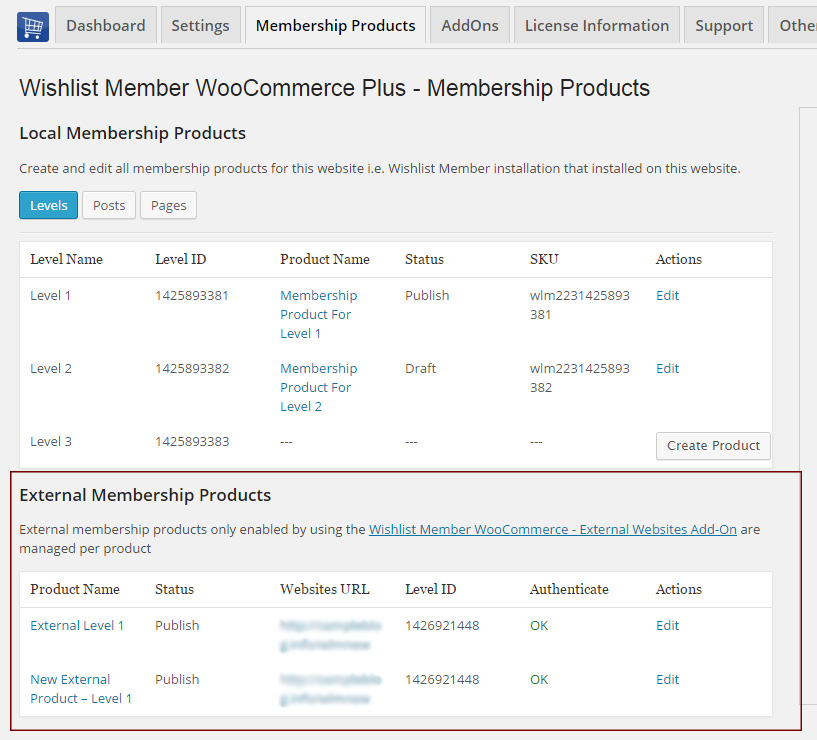 Sell Membership Levels as Products

Create and add products to unlimited number of membership levels in 1-Click by clicking on a simple "Create Product" button

Supports Pay Per Post Feature

Create and add products to unlimited number of posts / pages protected under the pay-per-post feature in 1-Click by clicking on a simple "Create Product" button

Allows Automatic Registration after Purchase

Members will be automatically registered to the website after they complete the purchase in the payment gateway (supports all payment gateways)

Supports Recurring Payments

Sell recurring membership products using WooCommerce (requires WooCommerce subscriptions extension)

Membership Products Summary Table

Get a clear overview of all the products that are defined as membership levels and paid posts/ pages and the ability to edit them from one place using quick links

Easy Installation & Configuration in 1-Click

The installation process is quick and easy just like any other WordPress plugins, and the configuration process is very simple. You can check the complete manual of the product and see for yourself how easy it really is

Supports All WooCommerce Payment Gateways

You can continiue selling your membership products just like any other product on your online store using WooCommerce

Ability to Extend the Plugin to Your Needs

You can extend the plugin and customize it to your needs using special actions & filters

Compatible with Existing Products

Full Compatibility with existing products that was created with Wishlist Member & WooCommerce by WooThemes (there is no need to recreate the product again)

Sell Multiple Membership Products Types

Ability to sell posts, pages and membership levels in one purchase

Supports Upgrades

If an existing customer (not necessarily a member) purchase a membership product, he will be upgraded and the membership products will be assigned to his account automatically

Supports External Membership Products

Sell unlimited number of external membership levels (when your WooCommerce store and Wishlist Member are installed on different WordPress installations) using the "External Membership Sites Add-Ons Bundle"
Create Membership Products Easily
Creating membership products is easy as clicking a button, actually all you really need is to click a button and a new membership product created inside WooCommerce.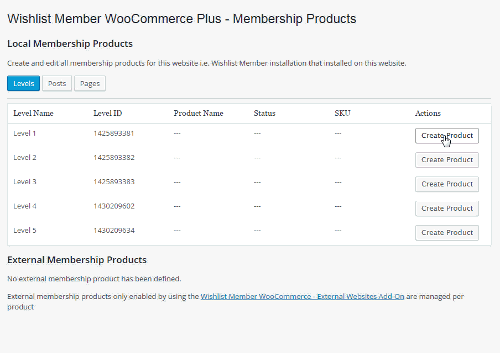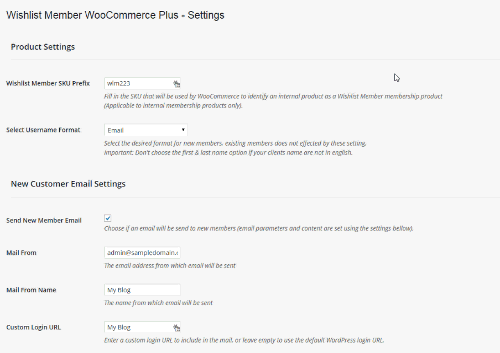 Simple Settings Screens
No complicate settings, all settings arranged in one simple so you don't need to navigate between endless settings screens.
Create Membership Product for Levels, Posts & Pages
No limitations on your membership site product type. You can create membership product both for level, posts and even pages.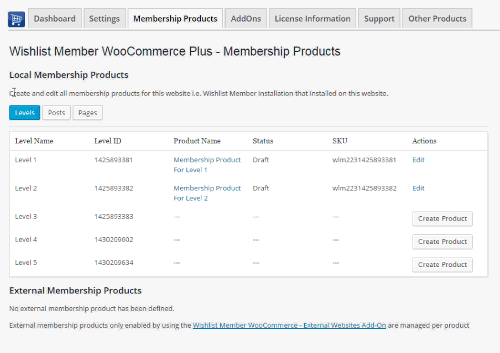 Allow Visitors to Buy More than One Membership Level

And create their own combination of levels (decide which levels to add to the cart and buy)

Allow Visitors to Buy More than One Pay-Per-Post Content

Without the need for you to create separate purchase buttons for each pay-per-post content

Allow Multiple Purchases of Levels & Individual Posts

Allow visitors to buy both levels and pay-per-post content in one purchase with no technical issues

Enjoy All the Benefits of an eCommerce Store

Your Wishlist Member membership levels and posts (using pay-per-post) are just like any WooCommerce product
WISHLIST MEMBER WOOCOMMERCE PLUS
VS. WOOTHEMES PLUGIN
In this comparison table you get the complete comparison of "Wishlist Member WooCommerce Plus"
& "Wishlist Member Integration" plugin by WooThemes
Feature

Wishlist Member WooCommerce Plus
(by HappyPlugins)

Wishlist Member WooCommerce Integration (by WooThemes)

Supports Membership Levels

Supports Pay-per-Post Feature

Partly (Members cannot buy levels and posts in the same purchase)

Easy Installation & Configuration

Create Membership Products in 1-Click

Allows Auto Registration After Completing the Purchase

Support for Recurring Payments

Membership Products Summary Table

Allow Selling External Membership Products



FREQUENTLY ASKED QUESTIONS
What version of WooCommerce plugin I need in order the plugin?

You will need to use WooCommerce version 2.3

Does the plugin have any conflicts with other plugins?

No, Wishlist Member WooCommerce Plus is a Wishlist Member dedicated plugin.

If my WooCommerce Store and Wishlist Member are installed on the exact same domain, will I need to purchase the "External Membership Sites Add-Ons Bundle"?

If both WooCommerce and Wishlist Member are installed on the exact WordPress installation, you will not need the "External Membership Sites Add-Ons Bundle", only the main plugin – Wishlist Member WooCommerce Plus

If my WooCommerce store and Wishlist membership site are located on different domains / sub-domains or files, will I still need to purchase the "External Membership Sites Add-Ons Bundle"?

Yes, because you have 2 different WordPress installations you will need to use the add-on. Examples of different domains are:

1. http://domain1.com & http://domain2.com (different domains)

2. http://domain1.com/woo & http://domain2.com/wlm (different directories)

3. http://woo.domain1.com & http://wlm.domain2.com (different sub-domains)

Can I Purchase More Licenses of the Remote Access Add-On Separately?

Yes, if you need to integrate multiple membership sites and you need more licenses (each membership site requires a license), you can purchase them separately in this link >> Purchase Remote Access Add-On

It sounds complicated to operate the plugin and add-ons to work with an external membership site, where can I find more information on how to integrate it exactly?

Actually, it is very simple and easy to install and activate all 3 and make them work seamlessly. The process is very quick and requires only 4 simple steps. You can find all the information in our detailed manual in this link

Can I use only the bundle, without the plugin Wishlist Member WooCommerce Plus?

As far as we know, the plugin does not conflict with any other plugin. Wishlist Member WooCommerce Plus keeps a very strict code method so the chances that it's causing any problem are very low. If you have any problems or conflicts, please contact the support department at HappyPlugins.com

Does the plugin integrate with every membership site platform?

No, the External Membership Sites & Remote Access Add-Ons are an addition to the main plugin, you must also purchase Wishlist Member WooCommerce Plus for the add-ons to work.

I have more questions and I haven't found my answers, how can I contact you?

If you haven't found your answers in the product's page and in the manual, please contact our support team at HappyPlugins.com and we will get back to you shortly

Can I protect WooCommerce products to be visible by members only using the plugin?

The purpose of Wishlist Member WooCommerce Plus plugin is NOT to protect WooCommerce products to be visible by members only, but to sell membership levels and / or pay-per-post content, while enjoying the advantages of the WooCommerce Platform.

Since WooThemes no longer supports their "WooCommerce Wishlist Member Integration" plugin and I am already using it, how can I move from their plugin to "Wishlist Member WooCommerce Plus" smoothly?

Moving from the WooThemes plugin to Wishlist Member WooCommerce Plus" plugin can be done very easily and smoothly, just follow these steps:

Step #1: Install the "Wishlist Member WooCommerce Plus" plugin on your website

Step #2: Copy the SKU Prefix from the WooThemes plugin by going to WooCommerce menu > Settings > Wishlist Member tab

Step #3: Paste the SKU Prefix to "Wishlist Member WooCommerce Plus" plugin by going to WL Extension menu > Wishlist Member WooCommerce Plus > Settings

Step #4: Deactivate the "WooCommerce Wishlist Member Integration" Plugin by WooThemes

Once you have changed the SKU Prefix and deactivated the WooThemes plugin the integration will continue to work just as it did before you activated Wishlist Member WooCommerce Plus plugin.

For detailed information about moving from WooThemes plugin to Wishlist Member WooCommerce Plus read our complete instructions, including screenshots, at HappyPlugins Blog